Places to stay
On the Offas Dyke Path
The Old Vicarage in Norton is a beautifully restored victorian gothic house overlooking the small village of Norton 2 miles from the center of Presteigne, and is situated in the midst of the most beautiful countryside very close to the Offas Dyke Path . The Old Vicarage offers bed and breakfast accommodation and has a restored coach house to rent for self catering stays . ....Tel ; 01544 260038
The Vicarage Cottage
Self Catering cottage which sleeps 2 in the grounds of the Old Vicarage Norton ....Tel ; 01544 260038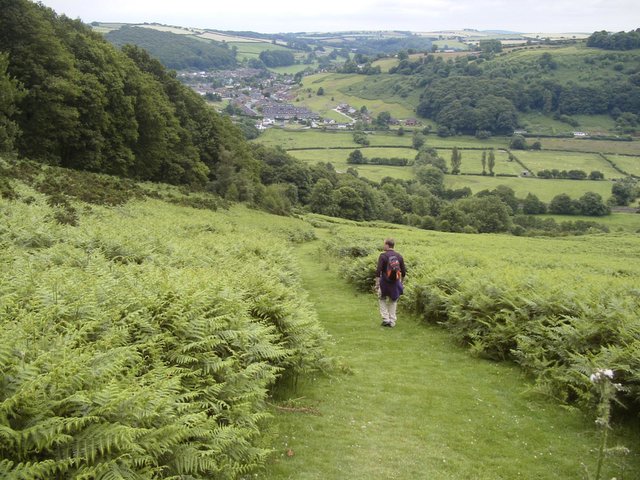 The Offas Dyke Path walking down into the neighbouring town of Knighton
The Old Post Office Llanigoin

Featured in : Alistair Sawday's Special Places to stay .
just outside Hay on Wye ,highly recommended B&B caters solely for vegetarians
....Tel: 01497 820008
If you are coming to take part in a course or visiting Presteigne there are many places to stay and an opportunity to take in the wonderful countryside.
You can choose from a number of Bed & Breakfast places , or for a longer stay rent a self catering house or cottage . To make the most of your stay , there are many beautiful walks and a number of things to do and places to visit . Presteigne is also within easy reach of Ludlow and Hay on Wye and is surrounded by many smaller towns and villages each with their own individual charm .
Presteigne although a small town by comparison to towns on the english side of the border was once the county town of Radnorshire and has the air of a town where time has stood still , many of the original medieval features still peep out from behind the Georgian facades and many of the surrounding houses still retain many beautiful and interesting features , and for those interested in vernacular architecture a leisurely walk around Presteigne is an absolute joy .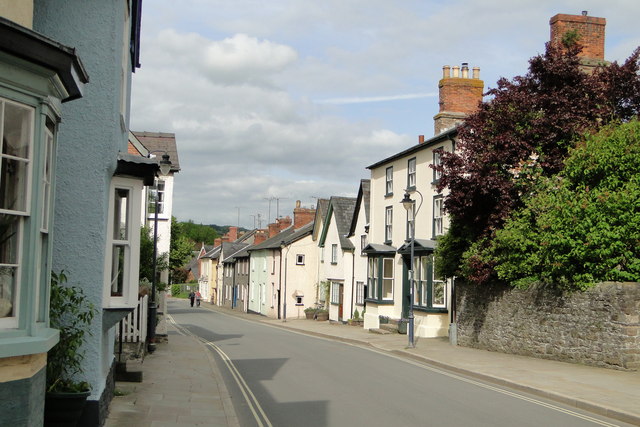 Broad Street looking down to Stapleton
Places to Visit
The Judges Lodgings Museum in Broad Street Presteigne , awarded the Best Independant Museum , is sensitively restored and retains much of the original features i the Court Coom, Judges quarters and service rooms . and frequently hosts exhibitions of local interest .
The Judges Lodgings Kitchens....with a wealth of period features , the original gas lighting giveing a true sense of the life above and below stairs .
Looking down Presteigne High Street , to The Assembly Rooms on the corner of Broad Street , the Assembly Rooms hosts many events throughout the year , holds regular exhibitions and concerts , a regular Film night and is the venue for our monthly Arts and Crafts Fair which is held on the first saturday of every month .

Medieval houses looking up Broad Street.
The Radnor Arms Hotel
The local Inn in the Center of presteigne with Bar and restaurant.
Currently Closed ...re opened under new management please check with new owners for details.
Wild Meadow, just outside Presteigne with amazing views and perfect seclusion , ... Sleeps two adults with the possibility of camping for children please ring for details
Tel; 01544 267039
www.wildmeadow.co
Bed and Breakfast
The Harp Inn at Old Radnor , ..4 miles from Presteigne , placed on a hill site having the most wonderful views across the Radnor valley. The Harp Inn has a small friendly bar, serves real ales, has a very good restaurant and also provides B&B accommodation ....
ADVANCED BOOKING ADVISED , ...
Tel; 01544 350655